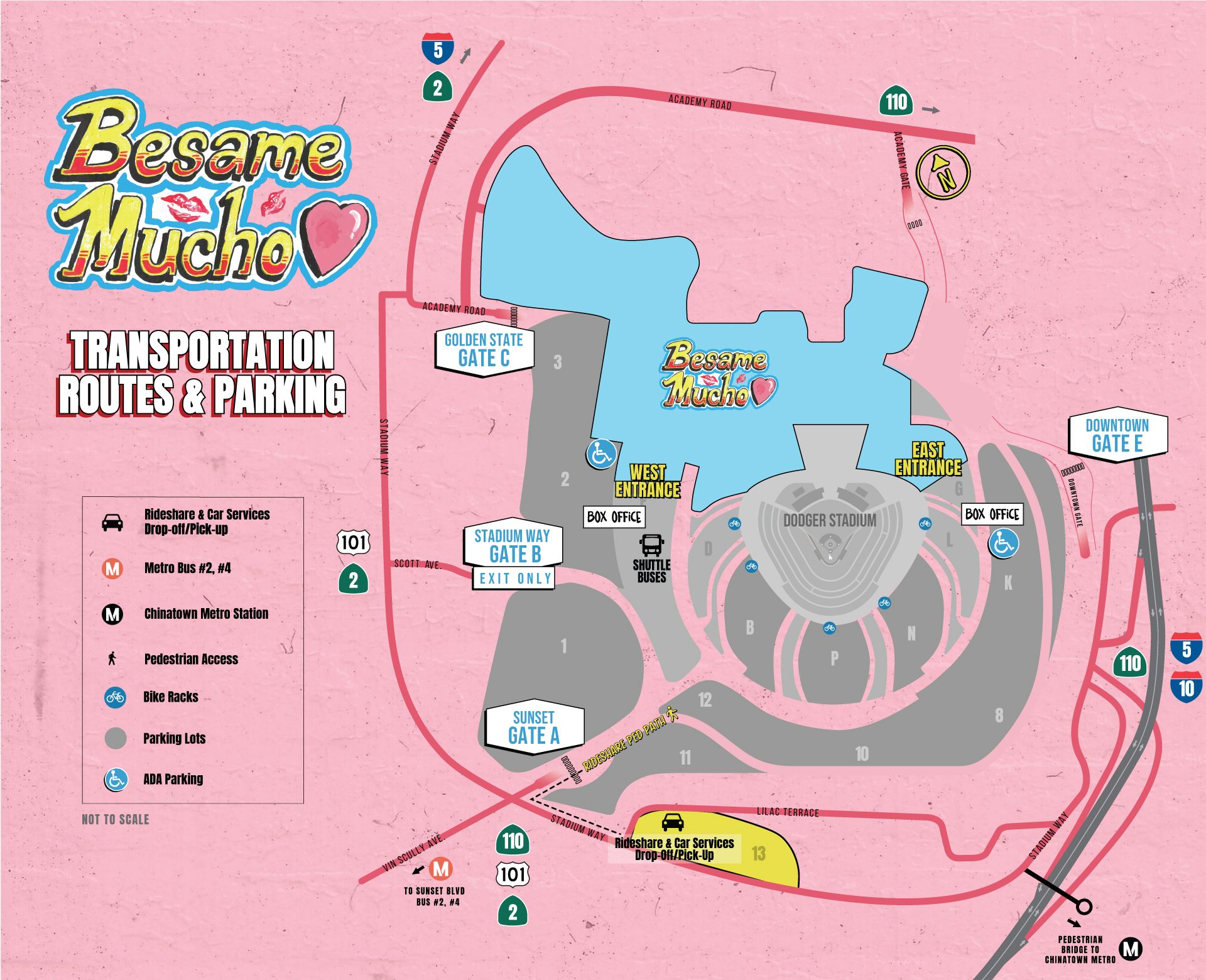 Festival Location:
Besame Mucho is located at Dodger Stadium at 1000 Vin Scully Ave, Los Angeles, CA 90012.
There are two festival entrances - the West Entrance is located off of Lot G through Gate C on the West side of the stadium. The East Entrance is located off of Lot G by Gate E.
Public Transportation
Go Metro! Take the Red, Purple, or Gold or Silver Line to Union Station and take the free shuttle directly to Dodger Stadium. Plan ahead and buy round-trip fare on your way in. Plan your trip below or call 323.GO.METRO (323.466.3876).
Taxis/Rideshares
Drop offs and rideshare zone will be located in LOT 13 located at 1700 Stadium Way. Los Angeles, CA 90012. Drop-offs will not be allowed inside the parking lots. Proceed to Lot 13. This is the only drop-off area near the festival.
Parking
There is limited parking available onsite, and we encourage patrons to use public transportation and rideshare services. If you plan to park at Dodger Stadium you must have 4 people in the vehicle. Prepaid GA parking passes are $40.00 each and oversized vehicle passes are $100.00, and can be purchased in advance HERE. Once parking passes are purchased they can be accessed on the MLB ballpark application or through Dodgers.com/mytickets and you can them to your wallet.
Shuttles
Take the free shuttle from Union Station! Shuttles will start at 10 AM on a continuous loop until 45 mins after the end of the festival. Shuttles are located on the west side of Union Station next to the taxi zone near Alameda St. At Dodger Stadium, shuttles are located in Lot F next to west entrance.
Traffic Advisory
Vin Scully Dr will be closed 9 PM to 1 AM between Sunset Blvd and Stadium Way.